Everyone has those dishes they're fond of because of their sentimentality, and for me struffoli is it. I'm told this is a Neapolitan dessert, but I know it as a South Philly Italian dessert since my Nonna Rose made it every Christmas, along with a ton of other delicious items I'll eventually get to making. And, like most dessert items I remember her making, these were generously flavored with orange zest. I always remember eating them the following day for breakfast straight off the plate. So, so good.
If you've never had struffoli before, you know it's just a bunch of little fried dough balls covered in honey and sprinkles. I've also seen them with hazelnuts, candied dried fruit, or like I did here, pine nuts. These are also one of those things that seem to get better the longer they sit out. I would venture to say its from the oil they are fried in and the massive amount of sugar they are coated it. So, make the full recipe, and try to not eat it all in one go!
I typically don't like to fry, but for this I will.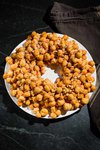 Print Recipe
Struffoli with Honey & Pine Nuts
Orange scented fried dough balls, covered in honey, topped with toasted pine nuts and colorful sprinkles. The classic Italian holiday dessert from my childhood.
Ingredients
3

c

flour

1

tbsp

sugar

salt

4

eggs

1

tbsp

butter

zest of an orange

you can use half, i like these really fragrant and orange

1

tsp

vanilla

plenty of oil to fry

about 3 cups, i used canola but use whatever neutral oil you like

1 1/2

c

honey

1/2

c

sugar

1/4

c

or a handful of pine nuts

toasted
Instructions
First thing to do is get the dough made. Combine all those dry ingredients, flour, salt and sugar, in a bowl, or food processor. Quickly pulse to mix. Next add in your eggs, cubed butter, vanilla and orange zest. Pulse until it's the texture of wet sand. It should clump and hold together when you squeeze a bit together.

Dump out your dough mixture onto some plastic wrap, smash it into a ball, tightly wrap it up and let rest for about 30 minutes at room temperature.

Next up, we roll. I like to pinch off about a sixth of the dough, just as much as I feel comfortable rolling out into a long tube, about 1cm in diameter. It'll all depend on how much space you have to work with. Once you have all the dough rolled out in long lengths, slice them into 1cm pieces. Then, setup a nice space to work with and start rolling each piece into a ball. This is the tedious part, but make yourself a hot beverage before hand, pour a glass of wine, put on some good music, whatever, just get comfortable cause you'll be rolling for a bit. Pro tip: Recruit some help to cut down on time.

Once all your struffoli are all rolled out, you're ready to fry. Get your oil heated over medium heat. You can test out the oil to see if it's the right temp by dropping in one ball and making sure it sizzles. If that happens you should be good to go. I do this in about 4 small batches. Add the balls to the oil and fry for about 4-5 minutes, stirring occasionally to make sure they brown evenly. Once they are a nice golden brown remove them from the oil and place on a paper towel lined tray. Just note that once you remove them from the oil they'll get about a shade darker.

Next up, get your honey and sugar heated up over medium heat. You want to make sure the sugar is dissolved, and the mixture comes to a brief boil.

Then, in a large bowl, add your fried balls, honey/sugar mixture and pine nuts and mix till everything is totally combined. You want everything dripping in honey. Now you're ready to plate it all up.

I like to make a wreath, but you can certainly just pile them up on a plate or even do individual servings in cupcake wrappers. To make the wreath, I invert a glass on my serving plate and dump the struffoli mixture all around it and then gently pull the glass out. Let it cool for a minute and it will hold its shape when you remove the glass.

Then the final, and honestly most important part is the sprinkles. Gotta have bright multicolored sprinkles all over it. It's imperative. That's it. Eat up!
Want more recipes like this delivered right to your inbox?
Sign-up to the Substack newsletter below:
Related Posts