I've probably said this before, but we love having salads for dinner. I think it's because it seems like you're eating a massive amount of food, and there's no guilt in going back for seconds. Or thirds. One of my favorites to make is this arugula and fennel salad. We'll occasionally switch it up, add different toppings, keep it totally veg, or like in this version, add some chicken on top if we want a more filling meal. Totally depends on our mood.
This was originally based off a salad that Ry's mom, Joan (shoutout to Joan, she's awesome!), had made with fennel, arugula, shaved parmesan, pine nuts and a lemon vinaigrette. There is something about the peppery arugula with the crunchy fennel and sharp lemon in the dressing that works really well together. Here I added wild rice, finely sliced shallot and grilled chicken, but add whatever you like. This whole recipe is really just an assembly job, with very little actual cooking involved, so it's super easy to make.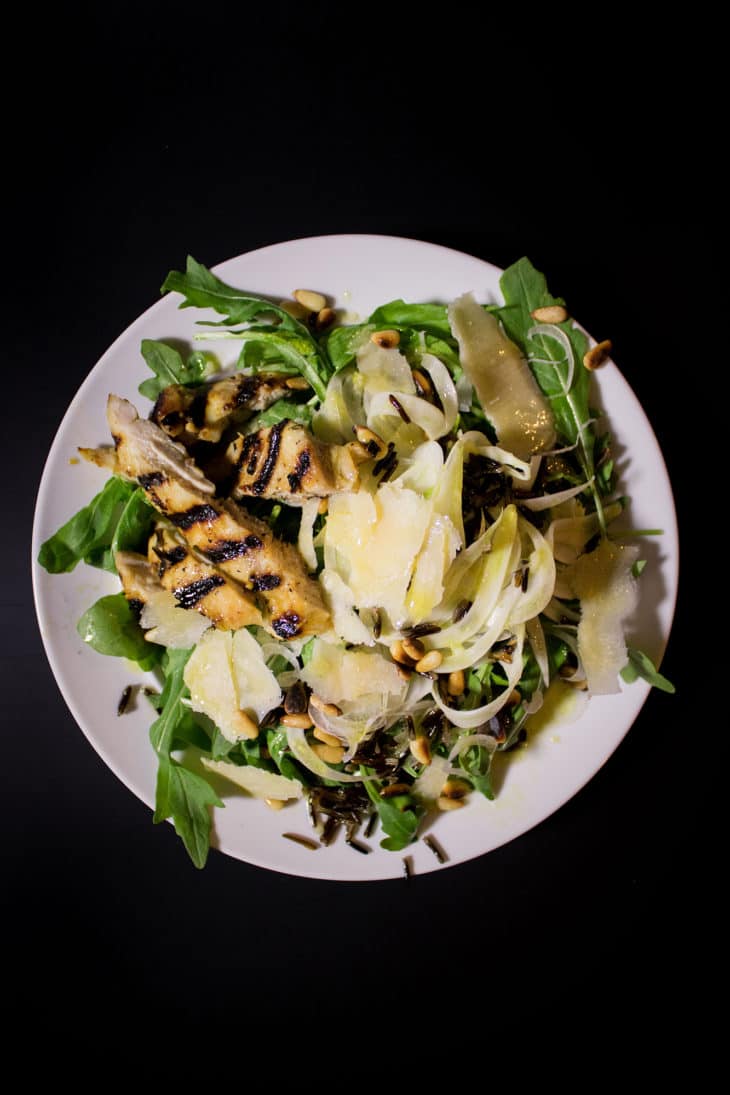 Make a big batch of this salad with the dressing on the side to have throughout the week. It's good. I promise you'll be happy you made extra.
For the chicken, I used some boneless, skinless thighs. That's just what I had, and what I like but use whatever you prefer. And for the marinade, if you don't feel like making a separate one, just use a bit of the dressing and let it marinade for 10mins or so before you grill it.
Also, some words of advice: Make a big batch of this salad with the dressing on the side to have throughout the week. It's good. I promise you'll be happy you made extra.
Arugula & Fennel Salad
with grilled chicken, wild rice and parmesan
Enough for two hungry beasts.
For the Dressing
juice of 1 lemon
small clove garlic, finely chopped
1 tsp dijon mustard
pinch of salt
1/2 tsp honey, sugar or anything sweet
1/4 c olive oil
For the Chicken
sprig of rosemary
two boneless and skinless chicken thighs – or, whatever you like
dash of olive oil
pinch of salt
1/2 tsp mustard
1/2 tsp honey
For the salad
1/2c Wild Rice – uncooked
lots of arugula – we go through at least a 5oz box
1 small bulb of fennel – I found a really small bulb, but just use half of a regular size bulb, no big deal, finely sliced
1 small shallot, finely sliced
handful of toasted pine nuts
handful of parmesan slivers – use as much as you like, we tend to like a lot!
Special equipment: I prefer my mandolin, but not necessary, some good knife skills will do just fine.
If you are using wild rice, which I would highly recommend, get it cooking now. It can take a while, around 50 mins, but the texture and chew complement the salad really well so any time waiting will be well worth it. Just follow whatever the packet cooking instructions tell you to do.
Next, make the dressing. Combine the lemon, garlic, mustard, salt and honey together. Give them a quick stir to make sure the salt and honey are completely dissolved, then add in your oil.
Now for the chicken. I typically like to marinade meats in a plastic bag. And, like I said before, you can either do a quick marinade, using some of the dressing you just made, or dump some similar flavors into a bag with the chicken and let it chill in the fridge while you wait for that rice to cook. Or, even easier, do nothing at all. The salad is still totally delish without meat. For this version I stuck the two chicken thighs in a plastic bag, threw in all the ingredients and smushed them around to make sure the chicken was evenly coated.
For everything that needs to be sliced in the recipe I used a mandolin. It's one of my favorite kitchen tools. I have one where you can adjust the thickness of your cut, so I aim for around 1mm, but slice as thick or thin as you like, it all depends of preference.
For the final assembly, go ahead and grill that chicken, and let it sit for a few minutes to cool slightly while you assemble the greens. I do a bit of a layering job starting with a bed of arugula, followed by the fennel and then scatter the remaining ingredients over that and drizzle with the dressing. It's a salad, you know what to do. And then, go ahead and eat up!