Full disclosure this is more of a butter recipe rather than a shrimp recipe, because the shrimp are really just here to play a supporting role. The butter is the Beyoncé of this recipe. So, if you came here for the shrimp just bare with me cause I'm gonna talk about this red pepper butter for a minute.
I originally made this as an appetizer for New Years Eve. I wanted to do a shrimp dish, but wasn't quite sure what to do. My only requirements were that it had to be low maintenance and something where I could prep the majority of the ingredients ahead of time. So, after a quick look through the fridge, my inspiration came from a glorious jar of cherry peppers. Christina's cherry peppers. I do have to say that they're homemade, so you'll need to find something similar in the store if you don't have a solid cherry pepper supplier like we do. Maybe I'll convince Christina to come do a post about how make them. (Hint, hint, wink, wink! Christina, I know you're reading this.) But no worries if you don't have any homemade peppers, just get some jarred sweet cherry peppers from the store. Just make sure to drain off any of the pickling liquid they come in.
This recipe makes a good bit of red pepper butter. I only use about a quarter of it to top the shrimp and I save the rest, either in the fridge or freezer, to use in other dishes later on. It can go on just about anything. C'mon, it's butter, it tastes good on everything. Ry likes it spread on toast, but you can add it to your eggs, top some chicken with, add it to veg dishes, whatever you can think of. Be creative.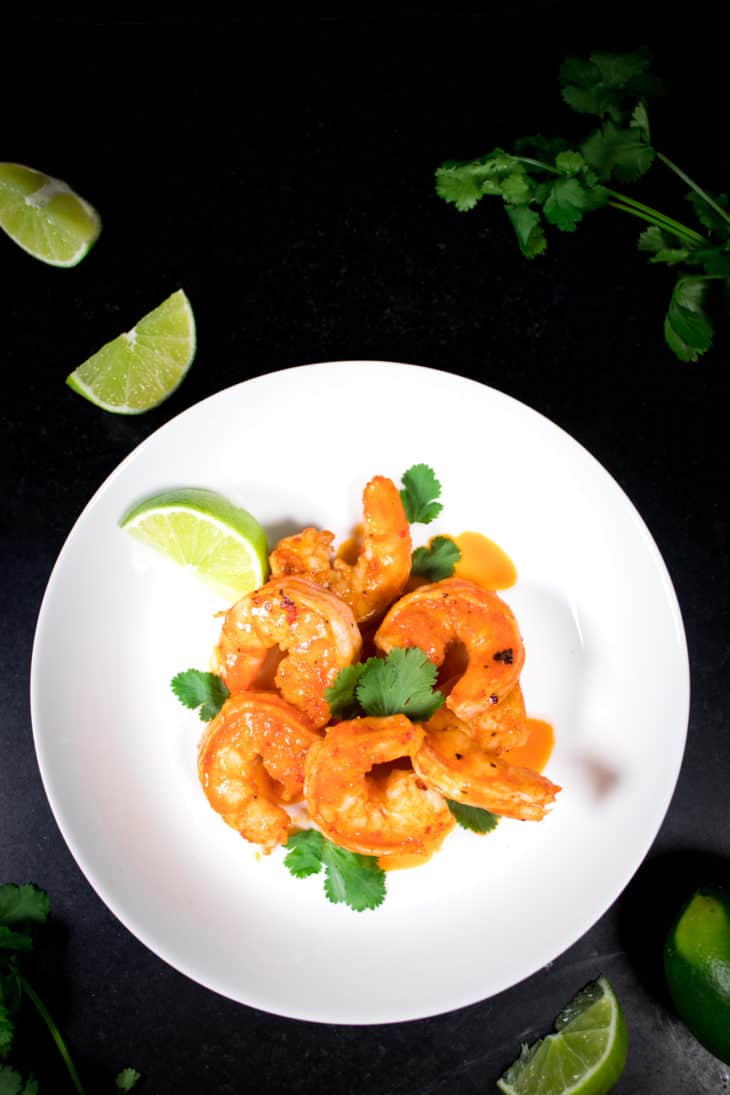 The butter is the Beyoncé of this recipe.
This recipe is quick and easy. It's mainly just a mater of throwing the butter ingredients into a food processor, blitzing it up, then cooking the shrimp. Totally doable.
Red Pepper Shrimp
with CJ's cherry peppers
For the butter
1 stick butter – 8 tbsp
3 cloves garlic
2 oz pimento peppers – well drained
1 1/2 tsp spicy harissa – you could also use sriracha, or whatever hot sauce you have
zest from 1 lemon, or lime
3 heaping teaspoons of chopped cherry peppers
garnish
Throw all the butter ingredients into the food processor. Run it until you have a fairly smooth paste. Totally depending on how you like it. I like it with some small pepper chunks, very good when they get slightly crisp and browned once you cook it.
Next, add a small spoonful of the butter to a hot pan and cook for about 30 seconds, then add in your shrimp and brown on both sides for a few minutes. Once the shrimp are cooked, turn off the heat and throw in a spoonful of the butter and toss everything together till the butter is melted and slightly cooked from the residual heat of the pan.
Then serve it up! I liked it with some lemon, or lime, whatever you have on hand and cilantro, but I like everything with cilantro, you could also use parsley.  And I would recommend that you have some rice, pasta or bread to sop up any extra butter sauce!