As soon as fall sets in and the temperature drops, one of my favorite things to make is this creamy cauliflower soup. It's super satisfying and incredibly simple to make, while still looking quite impressive all plated up. Made with just a few main ingredients, and everything cooking in under 45mins, this is a great go-to recipe for a weeknight meal, or the perfect starter to a weekend dinner party.
I originally saw a recipe boasting about the ability of cauliflower to create the creamiest dairy-free soup around on America's Test Kitchen. After trying it out, and not being disappointed, that recipe got made quite a few times last year and it's a definite slam dunk. The soup has clean distinctive flavors, and is smooth and silky without the need for any cream. So, no guilt involved.
The original recipe I saw, and how I've always made it in the past, was with your standard white cauliflower, and it works great that way. But, after a bit of discussion with my produce peddling boyfriend and lusting after those ornate, jewel colored heads of cauliflower, I've decided to up my game and go bold!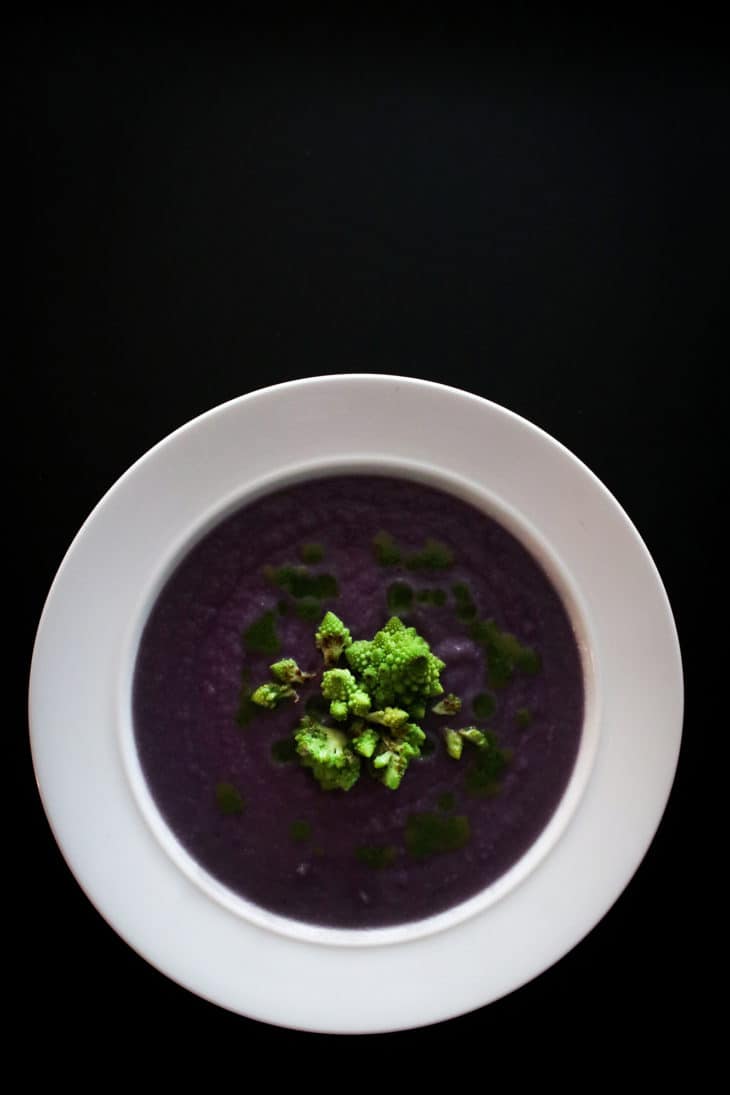 ...as soon as the season arrived, he brought home the goods.
Full disclosure here: having a boyfriend in the produce biz is dope. DOPE. It's really very handy especially when you like to cook, and even better when you both love to eat. So, as soon as the season arrived, he brought home the goods. One chartreuse, Fibonacci sequence inducing head of Romansco and the other a ludicrously pigmented head of vibrant purple cauliflower.
And, to go one step further I might even try and doctor things up with some equally vibrant brown butter chive oil, which I'm planning on actually being green. Fingers crossed. You get it, the purple soup, green oil drizzle, sautéed Romanesco. Here we go…
Purple Cauliflower Soup
with chive brown butter
1 tbsp butter
1 tbsp olive oil
2  small leeks (the ones pictured above are pretty big, so I only used 1 and 1/2)
1 white onion
4 c Water
1 head purple Cauliflower
Salt & pepper to taste
Garnish
2 tbsp butter
1/2 head Romanesco
Chive Butter
4 tbsp butter
Handful of Chives
Roughly chop the onions and leeks into half inch pieces, you don't need to be too finicky about the size since it'll all just get blended anyway. Make sure to clean your leeks really, really well. This soup is meant to be silky smooth and you don't want a gross bit of sand ruining the whole experience.
In a large pot add the oil and butter and gently cook those alliums, the onions and leeks, with some salt, until they're soft. Try not to brown them, we're not going for a caramelized flavor here. Once everything is softened and translucent add in 4c of water along with half the cut up purple cauliflower. Simmer for about 15-20 mins. Then, add the rest of the cauliflower and simmer another 15-20 mins till all the cauliflower is tender, but not total mush. Cooking the cauliflower in two segments like this gives you the ability to get the soup incredibly smooth and creamy, but still have some bright, fresh cauliflower flavor in there.
Once everything is good and tender, blend away! I use an immersion blender, which works really well for me, but you can always use a standard blender. Just blend in batches and be so careful not to burn yourself!
Ok, soups done, now onto garnish…
First, chive oil:  Brown 4 tbsp of butter and set aside, either in a blender, or a container safe to use with an immersion blender. Quickly blanch a handful of chives in boiling water, no more than 10 seconds and shock in ice water to stop the cooking. We're trying to preserve that vibrant green color. Drain the chives well, add them to the butter and blend until smooth.
Next, cauliflower garnish: Cut up the Romanesco in small florets and in the same pan you browned the butter in, sauté with a generous amount of butter. Cook until the butter and cauliflower are both nicely browned, and the cauliflower is tender.
Serve the soup with a large spoonful of the Romanesco garnish and generous drizzle of the chive butter.