I love a breakfast taco! But not for breakfast. I'm more of a coffee and pastry kinda girl in the early AM, however for lunch or dinner, bring on the breakfast taco! (I guess we can do a quick re-brand here and call them Egg Tacos since I'm eating them for every meal OTHER than breakfast). I've been eating quite a few Egg Tacos* lately, mainly cause I always have the ingredients on hand, or at least a majority of them. They're quick to make, it's a chop, mix and scramble situation. You add in a few more minutes if you're frying up those pumpkin seeds (well worth you time), but all in all, from start to finish it'll take you maybe 15 minutes.
I've played around with the toppings based on what I had on hand, and this version is now my go-to. Its quick, refreshing and a nice balance of creamy, buttery eggs and cheese, with that sharp bright salsa. Simple flavors and minimal ingredients. Totally my thing.
I would highly recommend flour tortillas here, the combo with the eggs is magic. Might also be because I hold a special place in my heart for fresh, homemade flour tortillas. Or at least when I have the time to make them. I'll use leftover bacon fat, and the combo of bacon and eggs, do I need to say more? Recipe for those if you're interested is coming soon. It's a bit of extra time to make them, especially since the beauty of this recipe is that it's quick, but make a bunch ahead of time, freeze them and then you'll have them on hand for whenever you want, which will be always!
*see what I did there 😉
Jump to Recipe
I guess we can do a quick re-brand here and call them Egg Tacos since I'm eating them for every meal OTHER than breakfast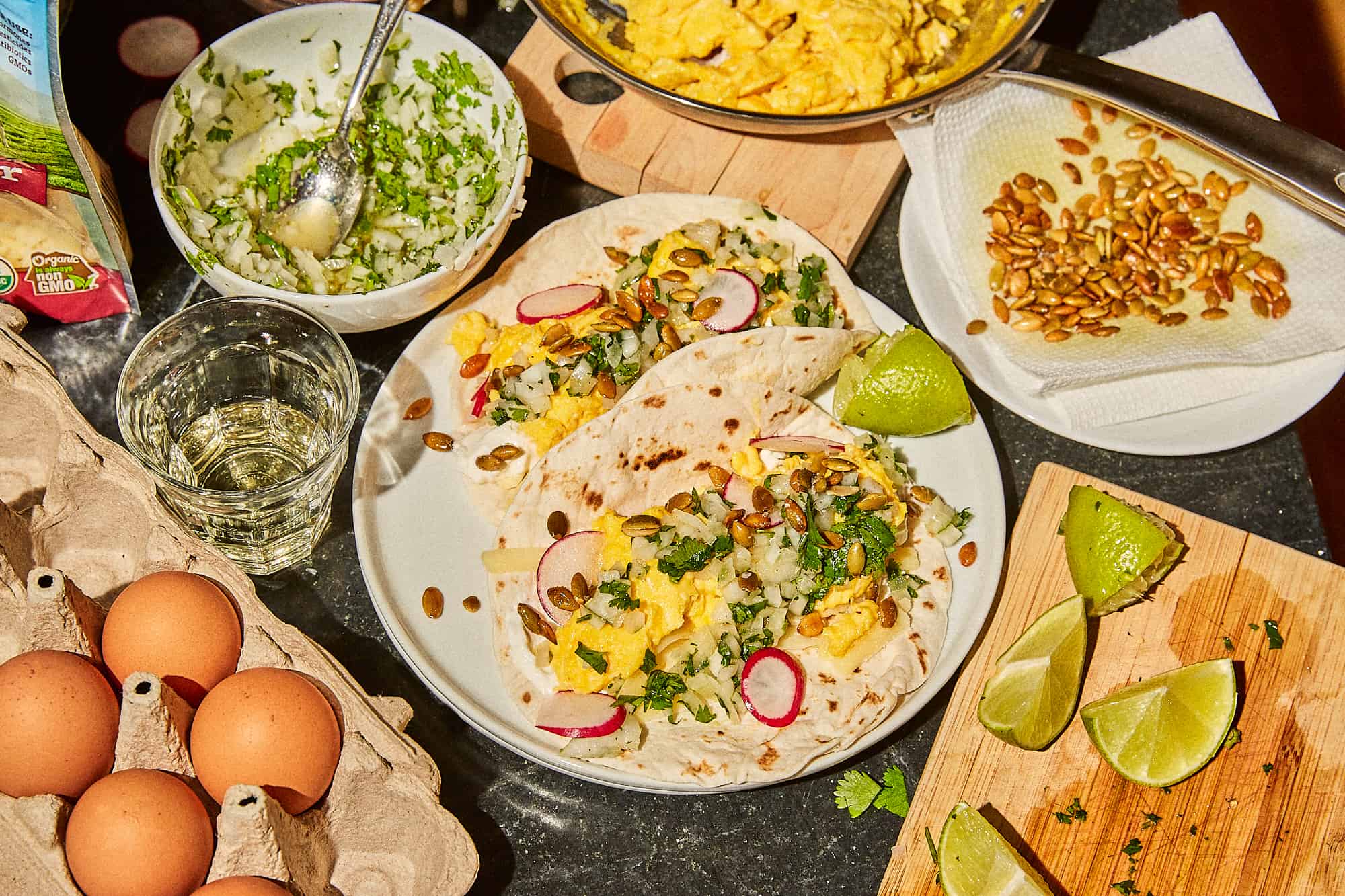 Print Recipe
Easy Breakfast Tacos
Breakfast Tacos with onion and cilantro salsa and fried pumpkin seeds.
Ingredients
6

eggs

1/2

white onion

finely diced

1

large handful

cilantro

finely chopped

1/4

C

olive oil

plus extra

1

lime

juiced

1/4

C

pumpkin seeds

4-6

flour tortillas

1/2

C

sharp cheddar

shredded

2

tbsp

butter

1/4

C

sour cream

1

handful

radishes

thinly sliced

hot sauce

optional

salt

pepper
Instructions
Mix together your onion and cilantro with salt, pepper, olive oil, and lime juice. Let sit while you get on with the rest of the recipe.

Fry the pumpkin seeds in about 2 tablespoons olive oil. It should only take a few minutes over medium-high heat. You'll see them puff and take on a little color. Remove from the oil and drain on a paper towel. Season with salt while still hot. 

Warm tortillas over an open flame or on a hot, dry skillet. Set aside on serving plate and sprinkle cheese over warmed tortillas so it gets slightly melted. 

Scramble the eggs, season with salt and cook over medium heat with lots of butter. You're aiming for big, giant, curds here. It makes eating the tacos much easier, you don't want a super soft, tiny curd kinda scramble here.

To serve, spread a dollop of sour cream onto tortillas, spoon eggs over and top with lots of that onion and cilantro salsa, and sliced radishes. Oh, and a few dashes of hot sauce. Eat up!
Want more recipes like this delivered right to your inbox?
Sign-up to the Substack newsletter below:
Related Posts