After three years of bothering Ry he finally did it, he brought home a jackfruit. All 20lbs of it. I had wanted to try fresh jackfruit for a while, or at least ever since I heard it was the flavor of juicy fruit gum. Whether this is true on not, I can't be sure, but it was enough to peak my interest. I've gotten it prepackaged and frozen before, from some markets here in Philly, but I had to have the real thing, fresh. And, as you can see, it's not really a fruit where you can just have a taste, it's a real commitment.
Down at the produce terminal, where Ry works, are a few vendors that sell more exotic and specialty items and this year when they had some jackfruit, Ry was able to grab one. I'm told they usually come in boxes of two. Not sure what I would have done with another one? He was nice enough to lug it into the house and leave it on the kitchen table as a surprise for me!
In case you haven't seen a jackfruit, they're massive and spiky. And when this one first arrived it was still super green and didn't really smell very fruity. So, after about a week of waiting, letting it turn brownish yellow and scenting (or stinking up) the whole house I was ready to dive into it. I've never cut apart a jackfruit before, but I did know that I was gonna need a big knife, maybe not my favorite one, and some oil, coconut, canola or vegetable all work. Jackfruit is filled with latex, and it gets everywhere. It was already oozing from the cut stem onto the table all week, so I knew as soon as I cut into it, it was gonna be a mess. Hence the oil, it makes cleanup much easier.
The actual cutting up of a jackfruit isn't difficult, just slightly tedious, and in my opinion worth the effort. I would recommend slicing it in half lengthwise and then just cut into manageable chunks. You're gonna see white goo oozing from it, that's the latex, don't stress over it. When it's in smaller chunks you can start pulling out the orange fruit pods surrounding the seeds. Once you got all your little pods, you want to remove the seed inside it. After I picked through this jackfruit I had a massive bowl of fruit. Definitely more that I could eat at once, so I saved some to eat right away, and the rest I stashed in the freezer for later. And what better way to use those frozen bits, than to make a smoothie bowl. For this version I went with the tropical theme and added some coconut, mango, banana and dragonfruit along with some mint and nuts. It was what I had, but use whatever you like.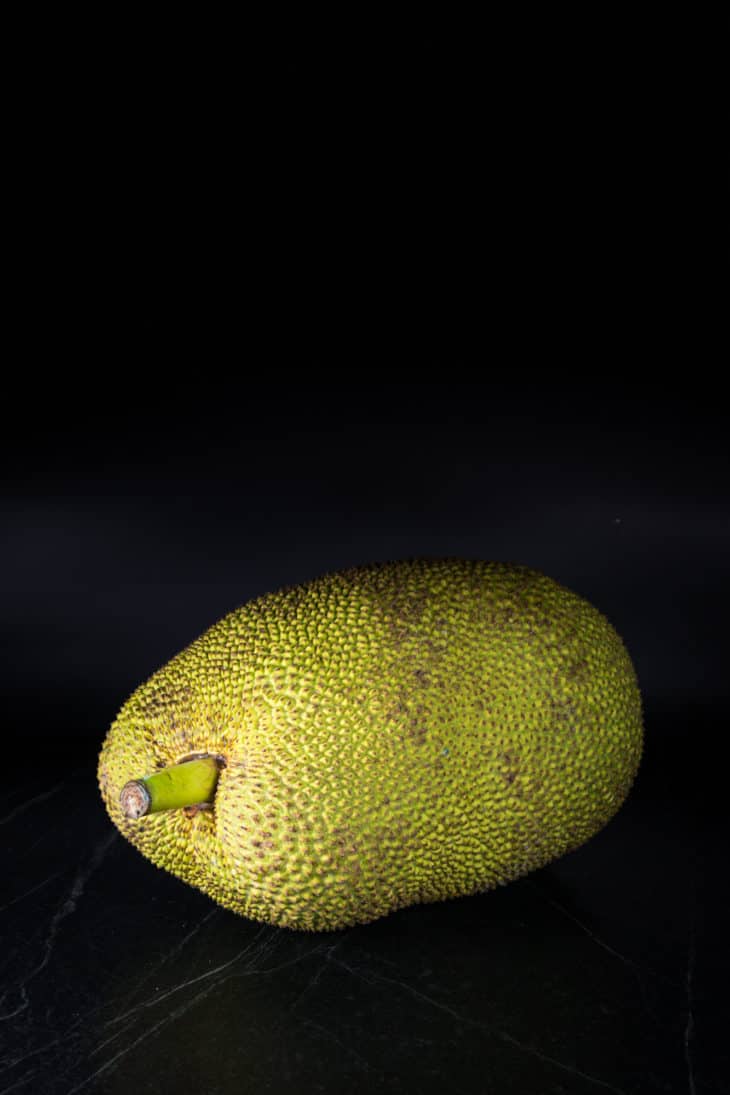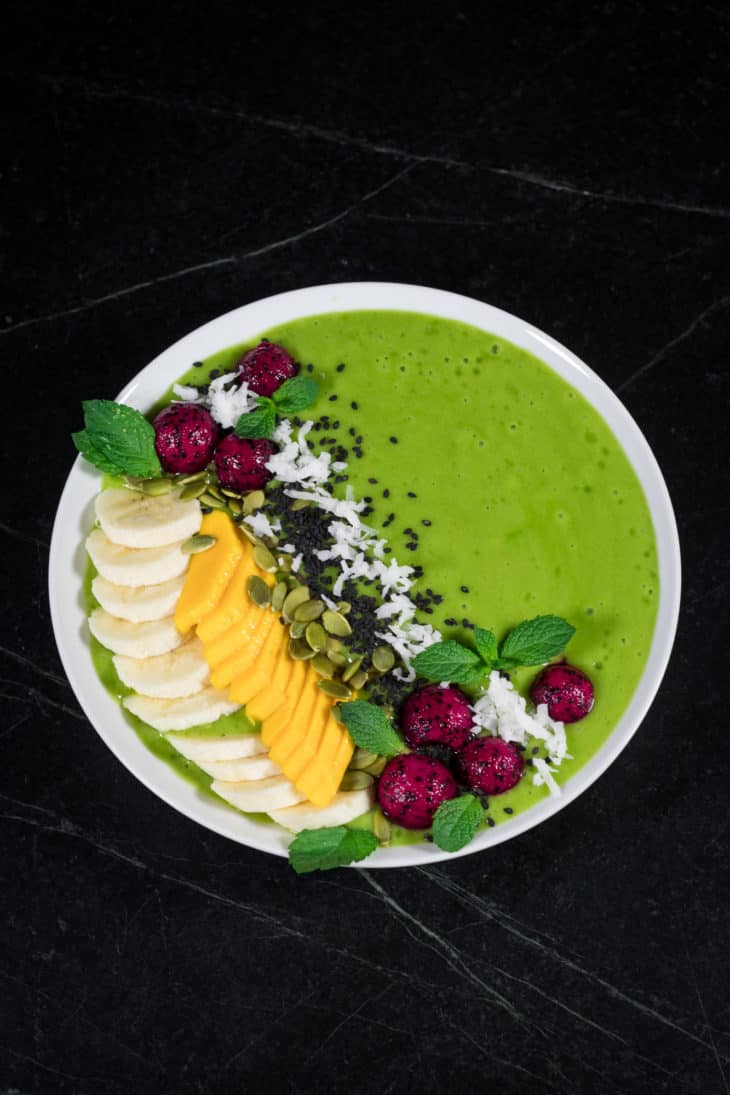 it's not really a fruit where you can just have a taste, it's a real commitment.
Jackfruit Smoothie Bowl
with all the toppings
The Smoothie Part
Handful of Jackfruit
Handful of Spinach
1 Banana
Lime Juice – as much as you like
The Toppings
banana
mango
pumpkin seeds
Black sesame seeds
Pitaya (Draggonfruit)
Shredded coconut
Mint
Special Equipment: Blender
This isn't really the most complicated recipe and I would say it doesn't even need an explanation so I'll be quick.
First up, make your smoothie part. Combine all the smoothie ingredients in your blender and blend until smooth. Then pour into your bowl.
Next up, top it! Add whatever fruits, veg, nuts, herbs you like. Make it look pretty if you want. That's it. eat up!