I promised we would get to the soup. As you probably saw, that last post I did was all about the stock, which is the other half of this soup, ya know, besides the onions and all.
We had a ton of leftover onions from the holidays, both shallots and yellow onions. So they had to get used up and what better way than by making some onion soup. And, while I would normally think this is a fussy type of soup to make, once the stock is done, it's mainly a job of getting some onions caramelized and some cheesy toast made. Both very doable.
You might also have noticed I like to make that cheesy bread separate from the soup, I'm not doing the whole au gratin thing. It just simplifies things, plus I like when the bread has a bit of bite left to it, rather than completely turned to mush. All a preference thing, so do what you want.
I also like to use sourdough here rather than a baguette. We always have some sourdough around. Plus, if you have the toast on the side, you can make extra…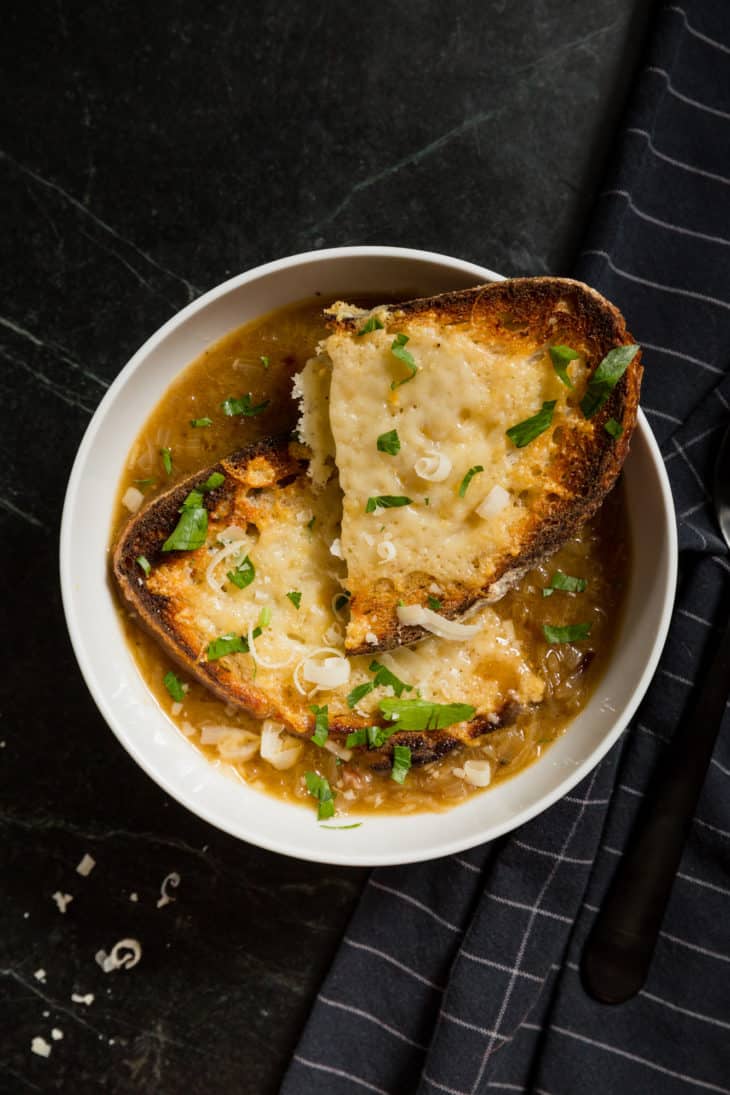 plus I like when the bread has a bit of bite left to it, rather than completely turned to mush. All a preference thing, so do what you want.
Onion Soup
with lots of Gruyère
Beef Stock
2 tbsp Butter or oil, or both
Lots of Onions – at least 4 cups chopped, but you don't need to be exact
Fresh Thyme – a few sprigs
Dash of dry white wine or beer – whatever you got, also optional
Sourdough – a few slices
Gruyère – shredded, or an other cheese you like, sharp cheddar works really well too
S & P
Parsley – for topping
Slice up your onions and get them in a pan. Put them over medium heat with your butter or oil and throw in your thyme sprigs.  You want to get your onions caramelized. So stir them occasionally for about 20-30 minutes and keep an eye on them so they don't burn. And make sure to season with some salt and pepper.
Once you onions are caramelized, go ahead and pull out that thyme sprig. If you're adding in any wine or beer, add a splash or two now, and be sure to scrape up any brown bits stuck to the bottom of the pot. Let it cook for 3 or so minutes, just so you cook off any alcohol. Then pour in your beef stock. Add in enough to get a consistency you like. I typically like my onion soup a bit thicker than most, but if you like it real brothy, add in more stock. Bring it to a simmer and cook for about 5 minutes, check for seasoning and adjust accordingly. If you're using unseasoned (read: unsalted) stock you'll need to add in a good bit of salt. Just keep tasting and adjusting.
Soups ready to go, now for the cheesy bread. I like to toast both sides of the bread under the broiler in my oven, then top with a generous amount of shredded cheese and broil again 'till it's bubbly and slightly browned.
Now you're ready to plate up. Just add in your soup, top with that cheesy toast and some parsley and fresh ground pepper if ya like. That's it. Eat up!