I'm really not much of a fan of winter. If you know me, you know I like heat and sun, and Philly winters are lacking in both. But, one thing to look forward to when it gets cold and rainy, is soup. We're always so psyched when we have soup in the house, but we don't make it nearly as much as we should. I think this is usually because I get so excited when I finally decide to make some, I pick some elaborate complex recipe, and then that's the one and only soup I make for the season. Well this year is gonna be different. I hope.
One soup I love is squash soup. But, there can be times when it's a bit overly spiced, like in pumpkin pie spice and can be more reminiscent of a dessert rather than a savory dish. Don't get me wrong, there are times when I'm into that, but for this version I wanted something a bit brighter, with some spice and lots of bright flavors. So I went for some lime, chipotle and cumin. This squash soup has a good bit of spice in it and I like to top mine with plenty of sour cream, lime and cilantro.
I originally made this with some leftover roasted kobucha squash I had from my previous tortelloni recipe. You can just as easily start with raw squash, since you're not actively doing anything while it roasts in the oven for about 45mins. You can also use whatever squash you like, butternut is an obvious alternative, or even use up some leftover roasted veg you might have. But, after mentioning that, this would probably also work really well using roasted carrots…
Once the soup is complete, just think of it as a base, where you can top with whatever you want. I topped ours with sunflower seeds, avocado, sour cream, lime, and cilantro, but top it with what you like! Get creative.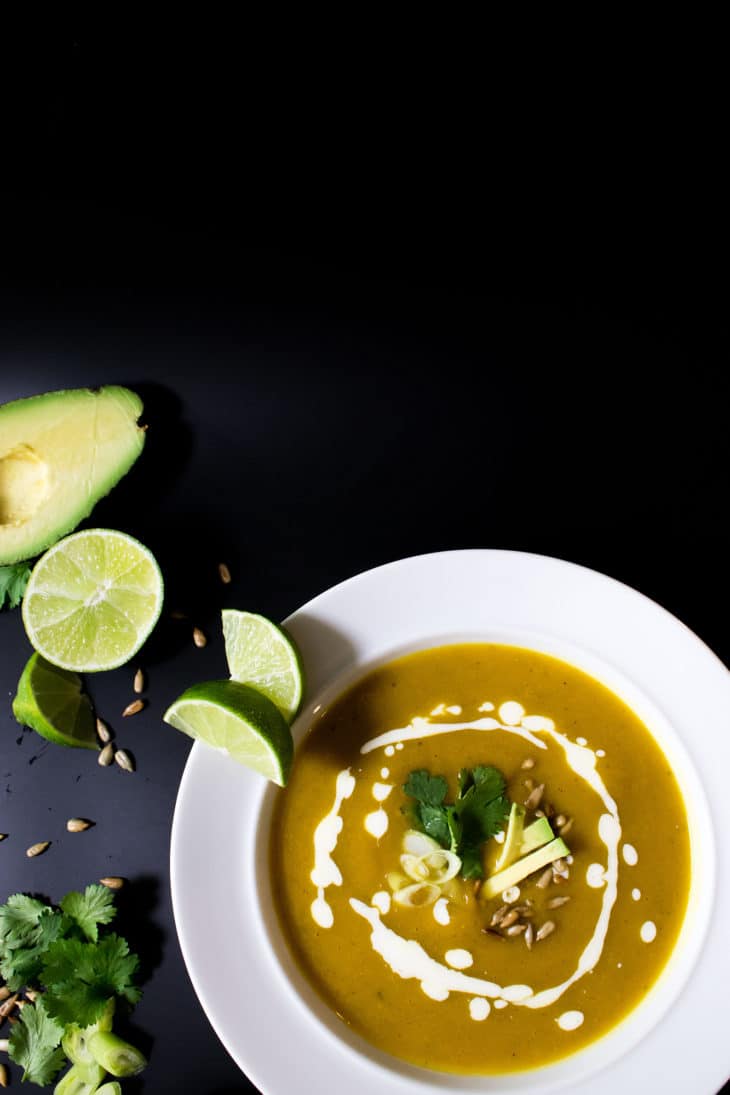 ...I wanted something a bit brighter, with some spice and lots of bright flavors. So, of course, I went for some lime, chipotle and cumin.
I should mention that the other great thing about this recipe, and most soup recipes, is that you can modify it and use whatever you have on hand. I had an extra leek in the fridge so I used that, but otherwise I would just use a small white onion. No stock? just use water, and make sure to season with enough salt so everything tastes good. Not into spicy food? Skip the chipotle powder. You get the idea. Its your soup, do what you want.
Squash Soup
with chipotle, cumin, lime crema and cilantro
For the soup
1 small onion or leek
small bunch of cilantro stems, save the leafy bits for garnish
1 clove garlic
1/4 teaspoon chipotle powder (more or less depending on how much spice you like)
1/8 teaspoon cumin
3c stock or water, here I used a store bought stock paste
1/4 Roasted kobucha squash
For the garnish
Lime
Sour Cream
pepitas, sunflower seeds or any nuts you like
cilantro leaves
scallions
avocado
Roast your squash till tender. I used some I had leftover, but you can just as easily roast some in a 375°F oven for 45mins until tender and slightly browned. It's good with a little color on it.
Next, chop up that leek or onion, and if you're using a leek make sure it is super clean, and grit free. Sauté that with some butter or oil, whichever you like, along with the cilantro stems until translucent. Next add in your chopped garlic, chipotle powder and cumin. Cook for just a minute or two, until you can smell the garlic and the spices are slightly toasted.
Add your water, or stock, and roasted squash and simmer for 20mins. Then blend it up! I used an immersion blender here, but you can use a countertop stand blender too, just be careful not to burn yourself, and blend in batches.
To top the soup I mixed 2 big teaspoons of sour cream with the juice from half a lime. If you want to do even better, get some real crema. We didn't have any, so the sour cream and lime will do in a pinch. Then top with whatever other goodies you like, avocado, cilantro, nuts and eat up!