I'm so happy the weather is finally getting warmer here in Philly. And while it is technically spring, there is still a fair bit of a chill left in the air. So, on occasion, when it's cold out I like to make a big pot of soup to have on hand as a nice lunch to warm myself up with during the week. I tend to make enough that I can keep half in the fridge, ready-to-go, and then freeze the other half to be consumed at a later date. This soup really makes a great lunch, since its a quick reheat job, and with a few small additions, I'm ready to eat!
This kale and white bean soup is nothing fancy and I'm sure most of you have already had it before, or at least some version of the bean and green veg soup. I like to use tuscan kale since it's pretty hardy and holds up well after being cooked for bit, but use whatever you like, or have available. I prefer the tuscan kale cause it doesn't turn into mush even after it's been reheated, but you can use spinach, swiss chard, escarole, whatever.
I typically tend to make this starting with dried beans that I soak the night before and then pressure cook till they're tender. Totally not necessary and you can just as easily use canned beans. You don't get any extra points for using dried beans here. I also like to add in a parmesan rind for flavor. I usually always have a few leftover rinds, wrapped in plastic, shoved in the freezer that I've saved solely for this purpose.  It's a super simple way to add a lot of flavor into any veg soup. You get all that umami without the meat.
The one thing I do that may not be the most typical, and certainly isn't in keeping with the Italian flavors here, is I like to top my soup with some crumbled feta. The salty cheese is so good, and I can really put it on just about anything. But, if your not into the feta, no worries, just top it with some Parmesan and always good drizzle of olive oil. Oh and I would def recommend toasting up some good bread and rubbing it with garlic. You gotta have something to dunk in there, just cause.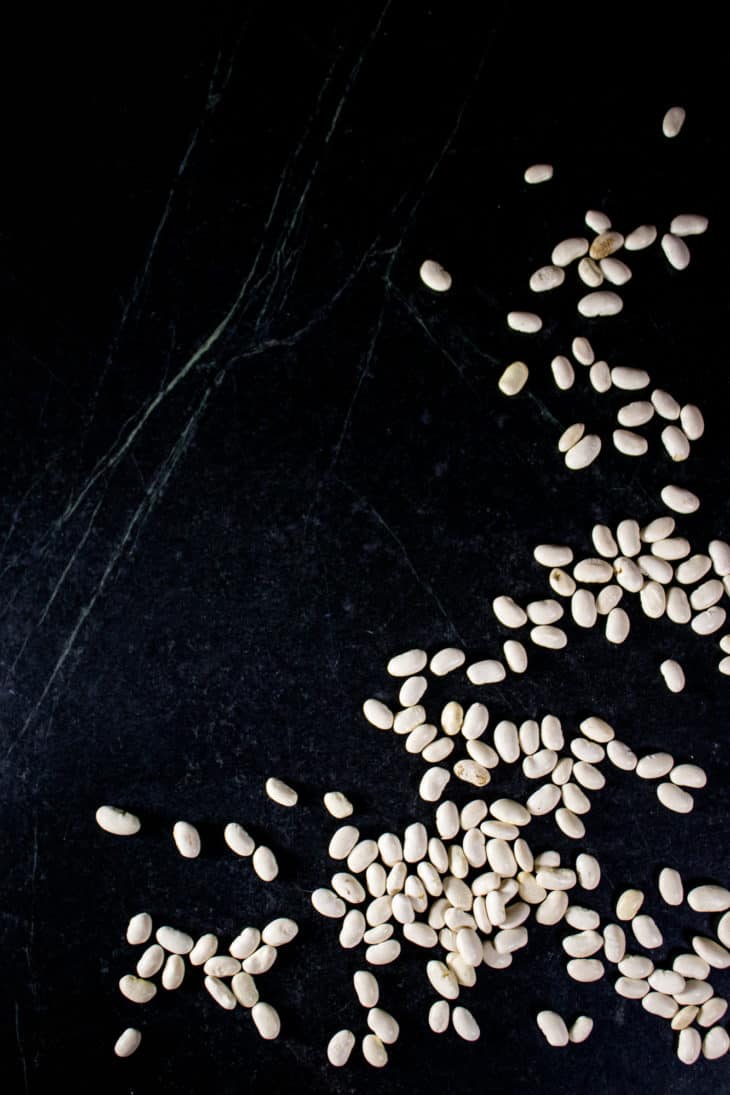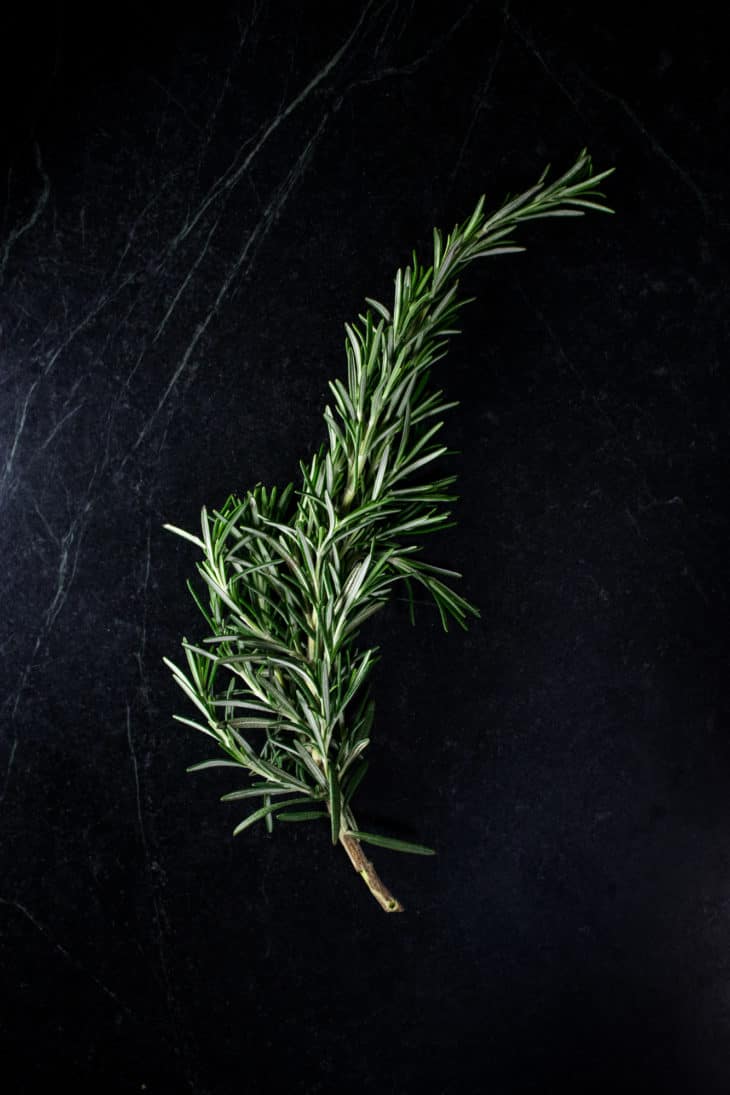 You get all that umami without the meat.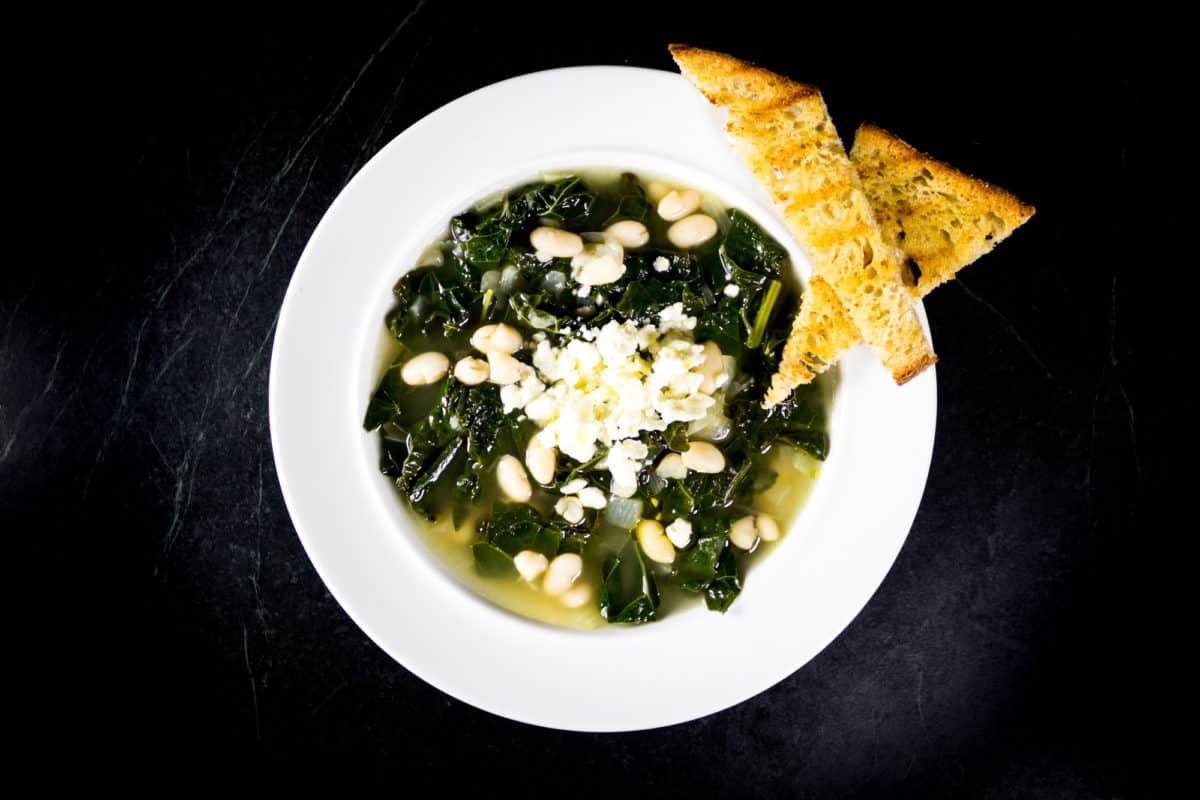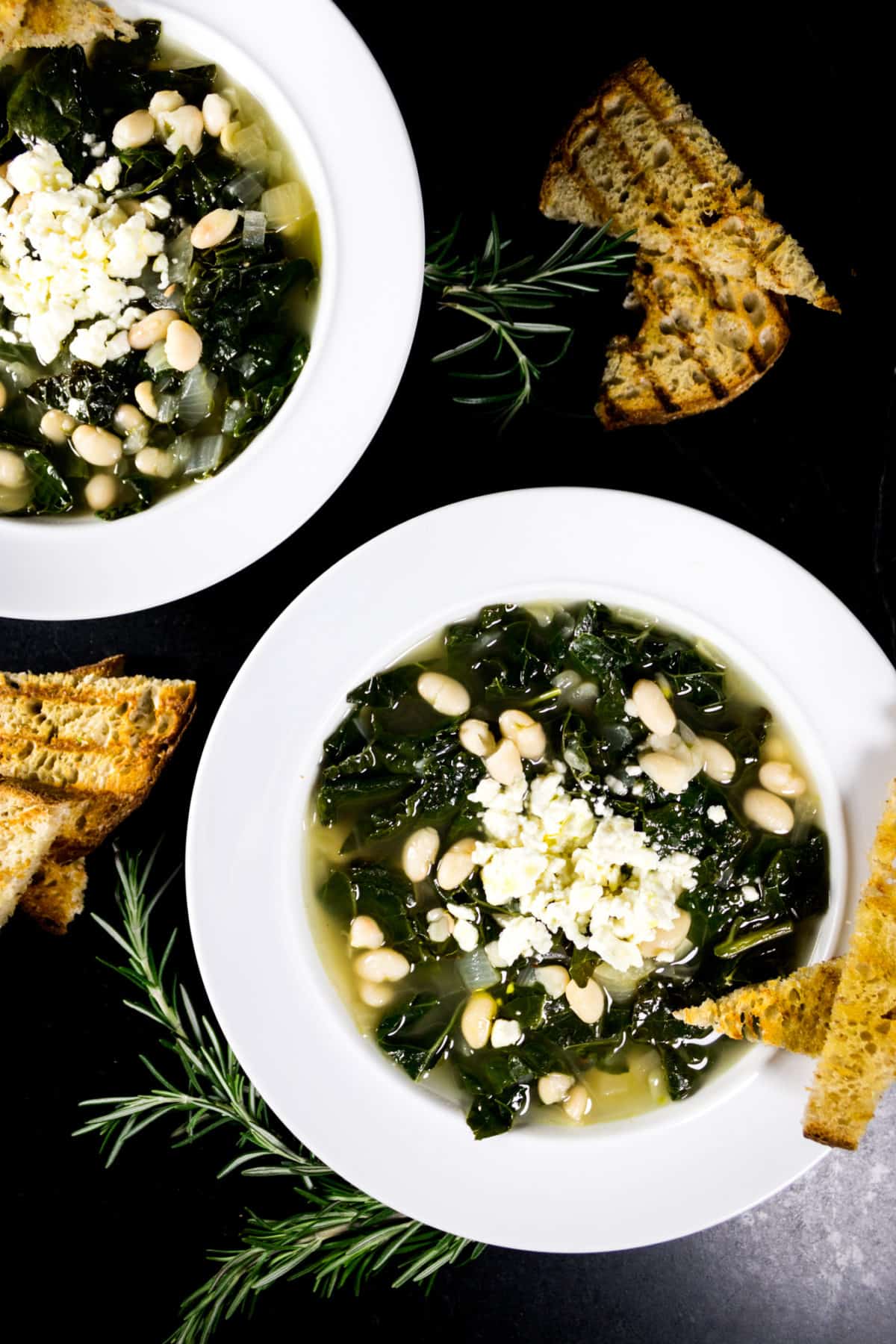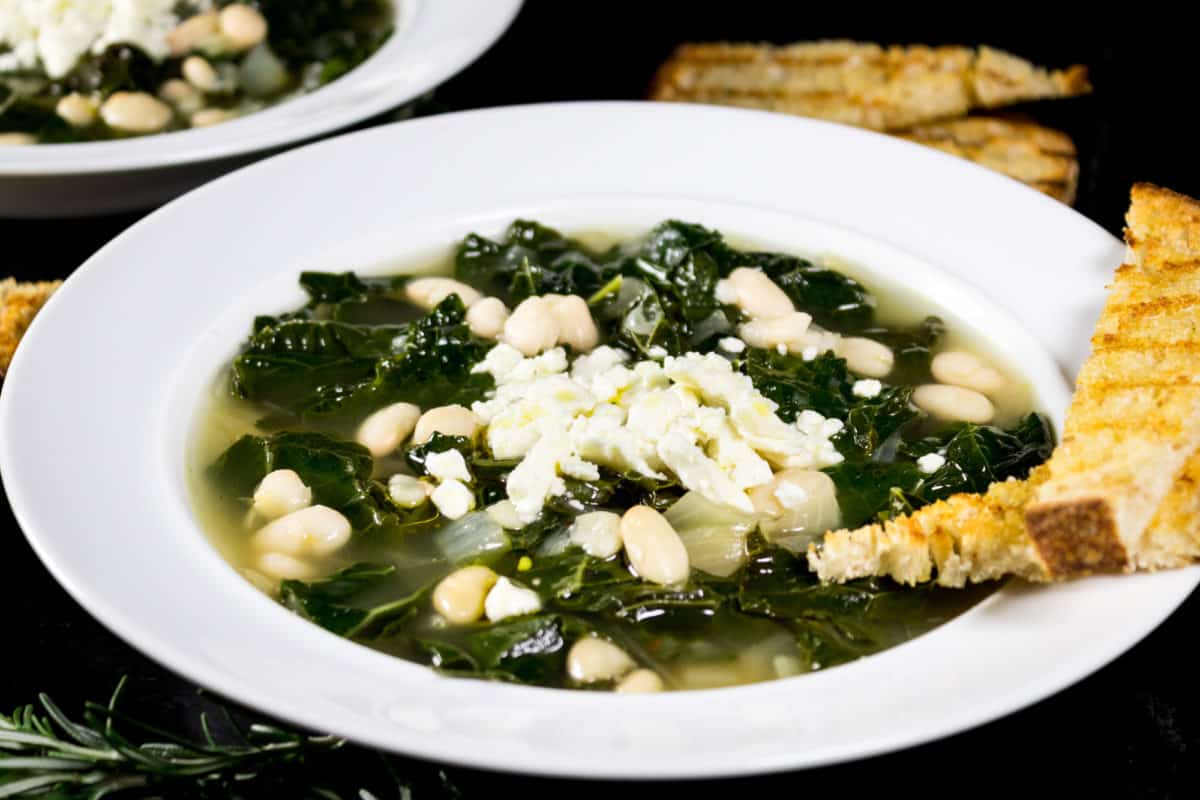 This soup is really super quick and easy. You can start totally from scratch with dried beans and making your own stock if you have the time and desire to. Or, you can just as easily put this together in 20 mins with some canned beans and a box of store bought stock. All up to you.
And, I would recommend smashing up some of the white beans to use as a thickener in the soup. It's an extra 30 seconds of work that has a major payoff. Trust me.
Kale & White Bean Soup
with feta and garlic crostini
For the Soup
Olive Oil
1 Large Onion – Diced
1 Large Clove Garlic – or more if you like
Pinch of Red Chili Flakes
48 oz Chicken or Veg Stock
2 cups White Beans
Large Bunch of Kale – cut into bit size pieces, use your best judgment here
Lemon
S & P
To Garnish
Grilled Toast  – I like sourdough
Feta
Olive Oil
Heat a large pot over medium heat and add in a dash of olive oil, your diced onions and chili flakes, use as much as you like, I like a good bit of heat so I did a fat pinch, it's totally up to you.  And, make sure to season with salt and pepper. Sweat the onions for a few minutes till they are translucent. Don't let them brown, not what we're going for here. Next add in your crushed garlic and let that cook for a minute or so. You want it to cook just till it's fragrant but not till it's burnt.
Then, add in your chicken stock, a spring of rosemary, half of the beans and the chopped kale. Give everything a good stir. Next I like to take a small bowl and smash up the remaining beans with a fork. I then stir that in to help thicken the soup. Bring everything up to a simmer and cook for about 5 or so minutes and then it should be good to go. Once the soup is finished cooking test for seasoning and adjust if needed. I also like to add in the juice of about half a lemon, it brightens everything up.
And to finish, either toast or grill your bread and rub it with some fresh garlic while it's hot. Plate up the soup, top with some feta, a good drizzle of olive oil and eat up!