We love pizza around here. I know, how novel right? Everyone loves pizza. I usually make thin, round pizza, more of a Neapolitan style, but lately I'm a little lazy and what I really want is a thick pillowy square of some low-maintenance pizza. So, that's where this pan pizza came into being. It's got more of a Roman style pizza vibe.
I love, like LOVE, the Beddia dough recipe (thanks Jess & Kate for the hot tip!). It's become my go-to recipe for a classic round pizza and was the starting point for this dough. This version has more water, more yeast, no kneading, no need for a pizza peel or stone, and can be made in as little as 5-6 hours. It's really a dump and go kinda dough and is very hands-off.
For toppings I've been very into a fresh mozzarella, tomato and pepperoni combo lately, but this can be topped with whatever you want. I recently did one with some leftover short rib ragu and ricotta and another with roasted eggplant and salami. Chef's kiss. Very good. Use whatever you want. Go wild with your toppings and let me know about it in the comments below!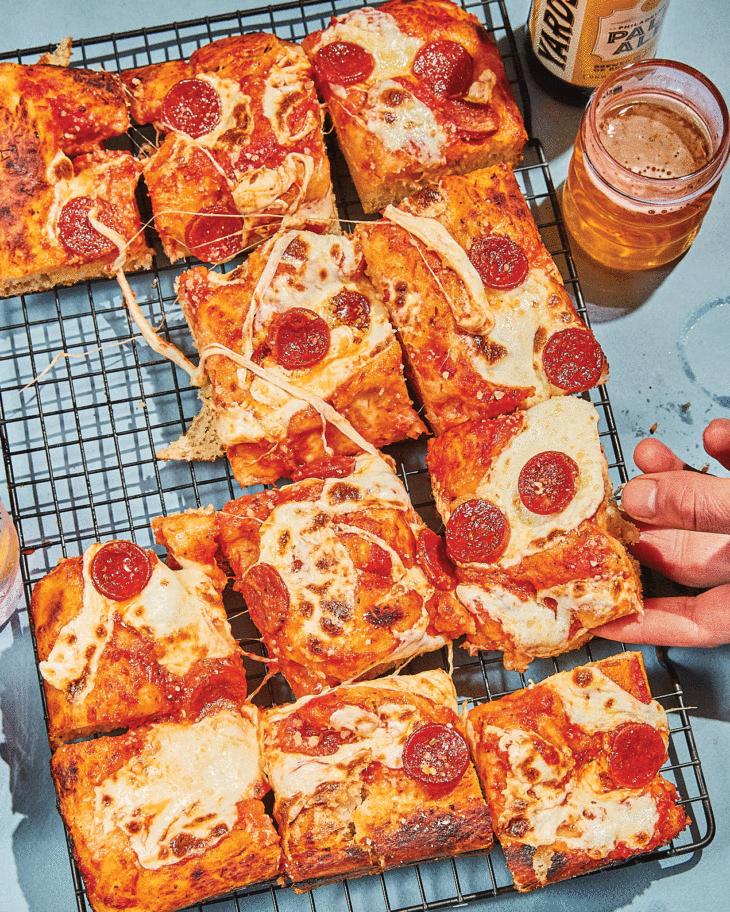 I recently did one with some leftover short rib ragu and ricotta and another with roasted eggplant and salami. Chef's kiss. Very good.
Dough and sauce recipes are based off the Beddia recipe
here
. I suggest you make it at least once if you haven't already. It's SO good.
Pan Pizza
no-knead, low-maintenance & super pillowy
Dough
Recipe makes 1 pan pizza in a quarter sheet pan – 9×13" or 10×15" both work.
I recommend weighing out your flour and water here, but I gave volumetric measurements just in case you are without a scale.
400g (1½ C + 3 tbsp) warm water
1 tsp active dry yeast
2 tsp Honey or Sugar
1 tbsp Olive Oil
500g (3 1/2 C) flour
1 1/2 tsp kosher salt
Sauce
Mix everything together and store in the fridge. Overnight is great, but a few hours is just fine.
You'll probably have extra left over. I freeze it and then I have some ready the next time I want pizza.
16 oz. Can of Tomatoes – whole (crush em with your hands), pureed, whatever you have
1 clove garlic, more or less – grated
Big pinch salt
~1 tbsp Olive oil
Toppings
I like salami or pepperoni.
Some fresh mozz or any other cheese you like.
Or, just go straight tomato sauce, a lil oregano and an extra drizzle of olive oil.
In a large bowl add your water, oil, honey and yeast. Let sit for about 5 mins to make sure the yeast is alive. If you're confident you have fresh yeast, no need to wait.
In a separate bowl, combine your flour and salt. Whisk well.
Add the flour mixture to your water and yeast mixture. Stir to combine. You don't need to excessively mix this, just make sure you don't have any pockets of dry flour, you want everything hydrated.
Cover bowl and let rise for about 5 hours at room temp or overnight in the fridge.
Line your baking sheet with parchment paper, and plenty of olive oil. You don't want things to stick. Dump your dough on the tray, pat it down with your fingertips and stretch it out so it covers the sides and corners on your pan. You may need to let it rest for 20 mins and gently stretch it again if it keeps springing back on you. Let rise for about an hour at room temp. It'll almost double in size and should hold a slight indentation when you poke it.
Get your oven preheated to as hot as it will go and place rack in center of the over. I baked ours at 550°F (~285°C). Once your oven is preheated you are ready to top your pizza with whatever you want. I went with some salami and pepperoni here, but use whatever you like.
Bake pizza for 10 – 12 minutes. This will depend on your oven temp. If you have an oven that goes to 500°F add on an additional 2-3 minutes. Just keep an eye on it. It will puff up a bunch once it goes in the oven and then begin to have small bits of golden brown on the edges of the crust. Once you see a slight bit of browning after those initial 12 or so minutes, set the oven to broil and let that pizza get bubbly and crisp on top. It usually takes 3 or 4 mins. Just keep an eye on it so you don't completely burn it. I've come very close before…
Once it's all cooked, remove from oven and let it cool for a few minutes. Remove from the tray onto a large cutting board and slice it up. Feel free to top with some extra olive oil, fresh parmesan, herbs, whatever. Eat up!